WinChile Casino 🌶, a premier destination for online gaming aficionados and thrill-seekers, offers a top-notch gaming experience in today's digital landscape. Its core differentiation lies in providing a genuine and original gaming atmosphere.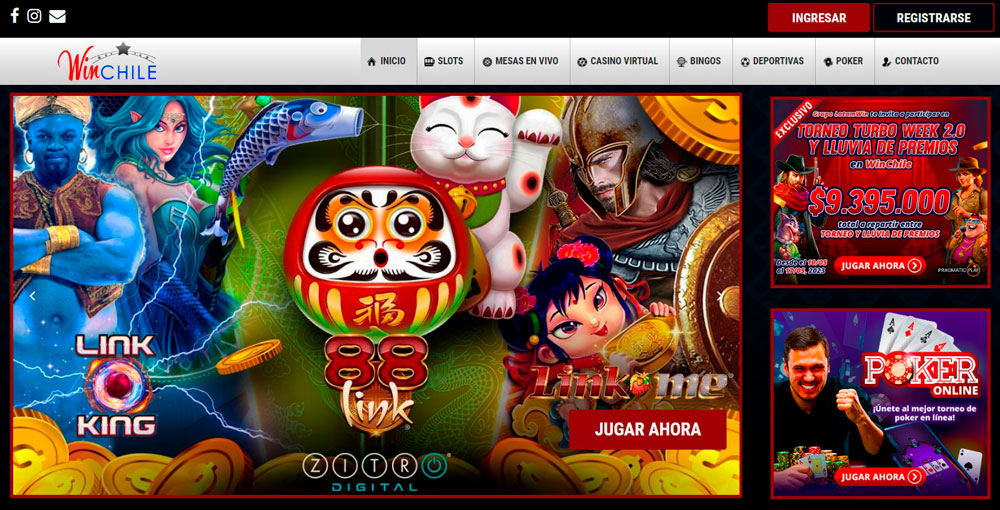 With the implementation of the latest live gaming technologies, the platform presents players with an unrivaled opportunity. Players can spectate live games, get involved in a high-octane environment, and interact with dealers in real time. Furthermore, it assures players of genuine results, eliminating any skepticism associated with computer-generated outcomes.
The creators of this casino have meticulously crafted the platform for simplicity, efficiency, and user-friendliness. Understanding the importance of security in online gaming, the casino functions as a safe online gaming platform, implementing state-of-the-art security precautions to safeguard player data and uphold the integrity of the gaming experience.
This article will explore the salient features of this renowned casino, illuminating why it is the top choice for gamers throughout Chile.
🌶 Official site: https://winchile.com/
Games and Gaming Providers 🌶⚡️
The gaming lobby showcases an impressive range of casino games, from dynamic slots to traditional table games, enticing poker, thrilling bingo, and engaging live casino sessions.
Note: Keep in mind that the casino's game offerings will not be visible until you register.
😞 Unfortunately, game navigation isn't as convenient as one might expect. The selection of games in any section is solely provider-based.

The Vibrant World of Slots 🌶⚡️
Slots form the backbone of any online casino, and WinChile stands out with its array of slot games. Whether you're inclined towards classic slots or enjoy the breathtaking visuals of contemporary video slots, the platform has something to quench your gaming thirst. With continuous updates and fresh slot games launched every week, you'll never run out of new challenges. Furthermore, the casino offers riveting slot tournaments for competition enthusiasts.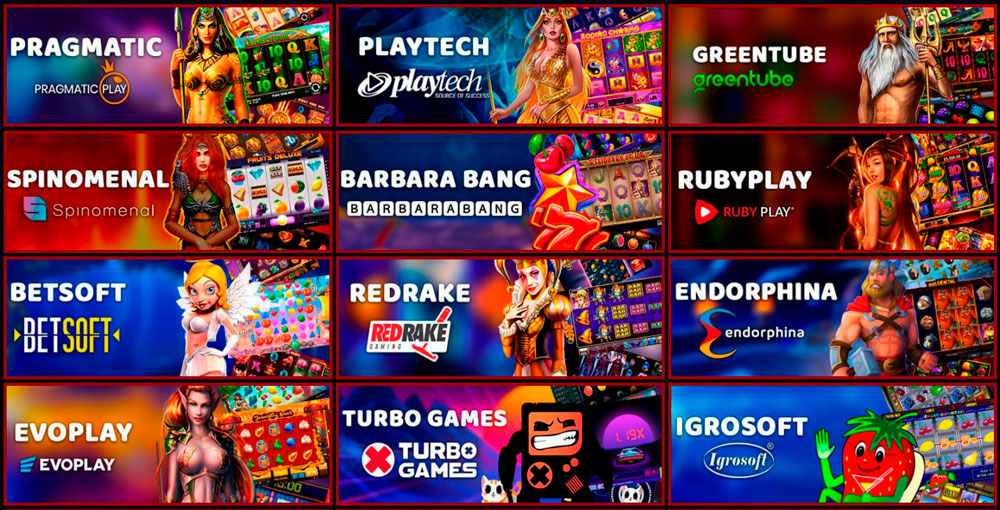 The diverse array of slots is made available by several high-quality game providers, such as Pragmatic Play, Playtech, Greentube, Spinomenal, Barbara Bang, Ruby Play, Betsoft, Red Rake Gaming, Endorphina, Evoplay, Igrosoft, Play'n Go, Habanero, Turbo Juegos. Each provider contributes their distinct flair to the gaming experience, offering a wide range of themes, game mechanics, and bonus features.

Poker: A Battle of Strategy 🌶⚡️
Poker aficionados, take note! The poker section provides numerous popular poker variants for you to apply your strategic talents. Choose from classic games such as Texas Hold'em and Omaha, or experience the fast-paced excitement of Speed Poker. Feel adventurous? Then dive into the quick-paced action of Twister.
The platform also hosts poker tournaments, serving as a platform for you to display your poker expertise and compete against other skilled players. With stakes starting as low as €0.01, there's room for everyone.
🌶 About Poker: https://www.winchile.com/poker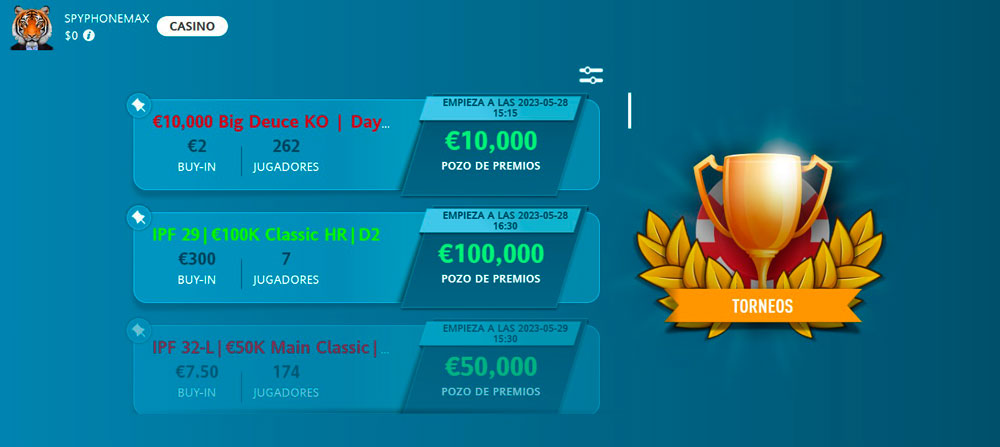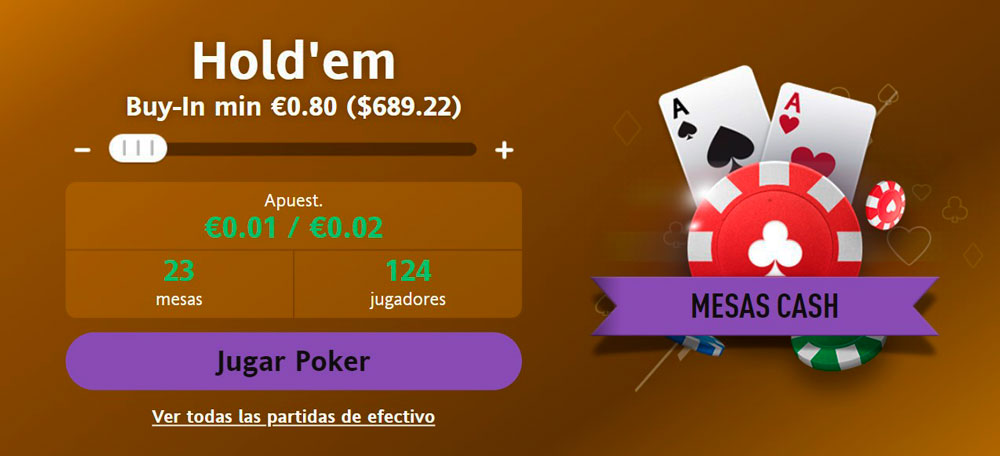 Bingo: A Timeless Game of Luck 🌶⚡️
Bingo, a long-standing staple in the casino gaming sector, is brought to your screens by WinChile Casino. Head over to the bingo section to enjoy this game of luck and stand a chance to win enticing prizes.
🌶 About Bingo: https://www.winchile.com/bingo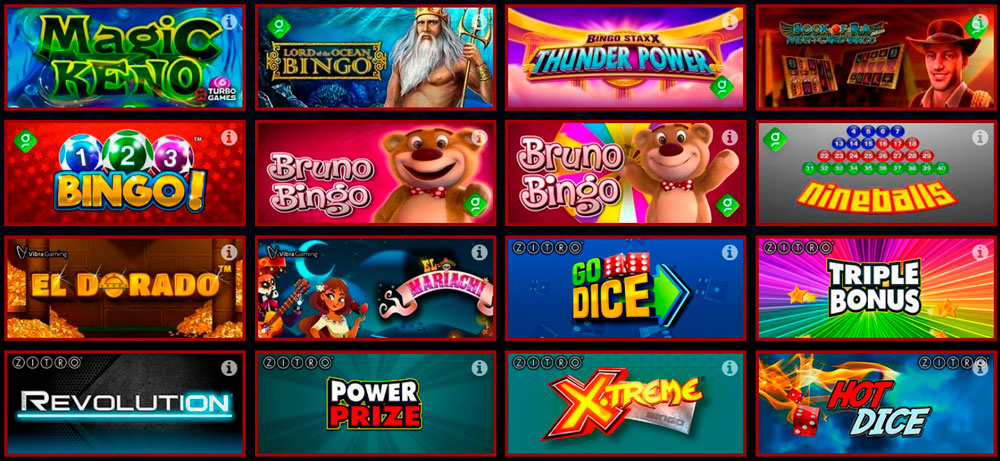 Table Games: A Tribute to Tradition 🌶⚡️
Fans of traditional gambling will find an array of well-known favorites in the table games section. From Roulette and Blackjack to Baccarat, this casino has got you covered. These games are brought to life by some of the most reputable providers in the industry, ensuring high-quality graphics, fair gameplay, and an unforgettable gaming experience.


Live Casino: Real-time Thrill 🌶⚡️
For those who yearn for the thrill of a physical casino without leaving their homes, WinChile offers a Live Casino experience. Play traditional games such as roulette, blackjack, and poker, or try your hand at baccarat. Professional dealers run the games, ensuring a seamless and enjoyable gaming experience.

The live casino is powered by leading providers in the industry: Pragmatic Play, Playtech, Evolution Gaming, Ezugi, and Games Global. Each provider adds a unique touch to the live casino experience, offering a wide array of games, interactive features, and high-definition streaming.
🌶 About Live Casino: https://www.winchile.com/live/tables/lobby_ezugi

Sports Betting 🏀
WinChile is more than just a hub for diverse online casino games; it's also a hotspot for sports fans. The platform offers a broad array of sports betting opportunities, allowing players to engage more deeply with their favorite sports.
Note: It's crucial to remember that sports betting is not only about the exhilaration of winning. It's about appreciating the game, sharpening your analytical abilities, and sharing the thrill of live sports. Always remember to bet responsibly.
🏀 About Sports Betting: https://www.winchile.com/deportivas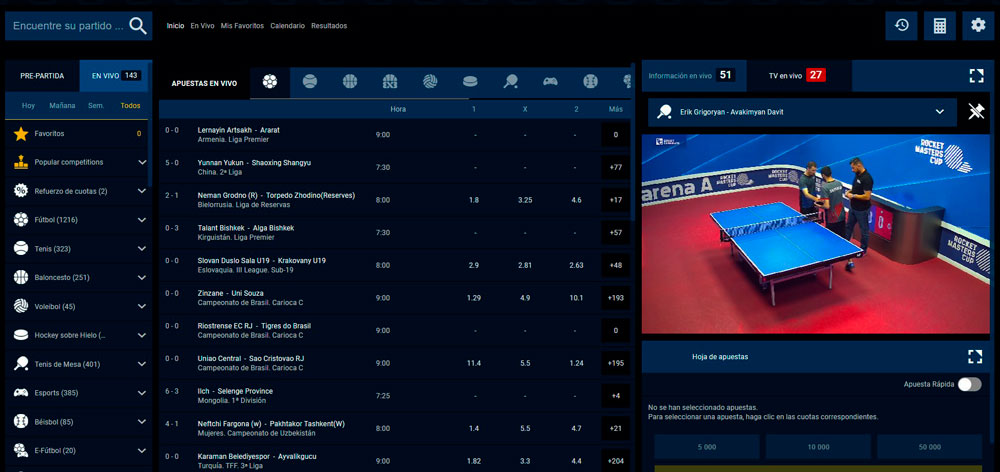 Sports at WinChile Casino 🏀
Betting on sports on this platform is an enthralling journey across an expansive spectrum of sports. Soccer, the world's most popular sport, is front and center. From global tournaments like the World Cup to domestic leagues like the Premier League or La Liga, the options for soccer betting are comprehensive.
American sports fans aren't left out, with betting options available for basketball, particularly NBA games and other major events. Tennis lovers can dive into the world of ATP and WTA tournaments, among others.
The platform also caters to the digital sports world, offering eSports betting options for fans of popular games like League of Legends, Dota 2, and CS:GO.
Types of Bets 🏀
WinChile provides different types of bets to cater to the diverse needs and preferences of its players. These are the primary types of bets available on the platform:
🏀 Money Line Betting: This is the most straightforward form of betting. In simple terms, you place a bet on who you believe will win the match or event.
🏀 Points Betting: Points betting is quite popular, especially in sports like basketball and soccer. Here, you bet not only on the winner but also on the margin of points. The casino sets a margin, and you bet whether the favored team will win by more than the margin or if the underdog will lose by less than the margin or win outright.
🏀 Over/Under Bets: Over/Under bets, also known as totals, involve wagering on the combined total score of both teams. The casino sets a predicted total, and you bet whether the actual total will be over or under that number.
🏀 Prop Betting: Prop bets, short for proposition bets, are wagers on specific events within a match that aren't directly tied to the final outcome. These could include bets on who will score the first goal, the number of yellow cards in a soccer match, or the number of aces served by a tennis player.
🏀 Live Betting: Live betting, also known as in-play betting, is an exhilarating feature offered by WinChile Casino. It allows you to place bets during a match or event as it happens. The odds are updated in real-time based on the progression of the game, adding an extra layer of excitement.
Navigating the Betting Interface 🏀
The sports betting platform is designed with the bettor's convenience in mind, offering easy navigation and a user-friendly interface. It is divided into five main sections: Home, Live Betting, My Favorites, Calendar, and Results.
🏀 Home: The Home section is the central hub for all betting activities on the platform. Here, you can find a diverse array of sports events to bet on, from traditional sports like soccer, tennis, and basketball to the dynamic world of Esports.
🏀 Live Betting: If you're drawn to the thrill of real-time action, the Live Betting section is ideal. Here, you can bet on events unfolding at that very moment, allowing you to apply your sports knowledge and intuition to make in-the-moment decisions.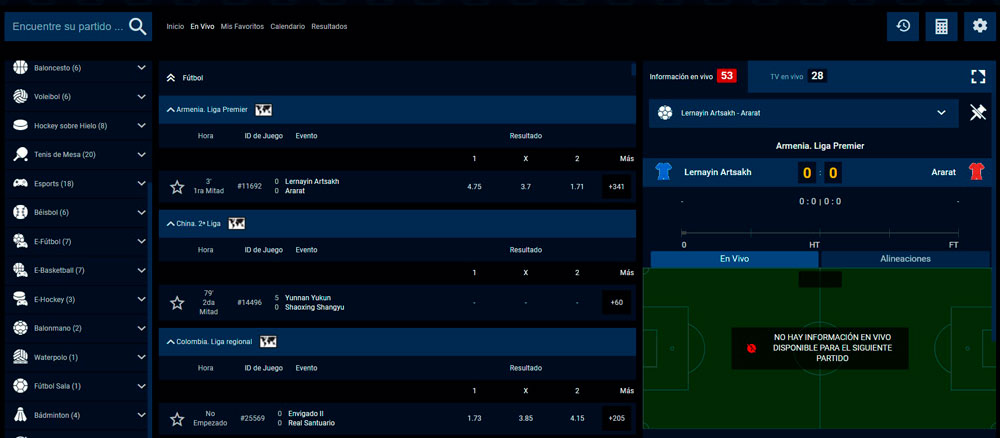 🏀 My Favorites: WinChile takes personalization to new heights with the My Favorites feature. This unique tool allows you to curate your own list of favorite events, saving you from having to scroll through the entire sports catalog.
🏀 Calendar: Stay informed about the latest and upcoming sports events with the Calendar feature. Whether you want to plan your betting strategy ahead of time or just make sure you don't miss any major events, the calendar has you covered.
🏀 Results: If you're interested in analyzing your betting performance or simply want to know past sports results, the Results tab offers all the information you need. With a comprehensive history of past events, this feature is invaluable for any serious bettor.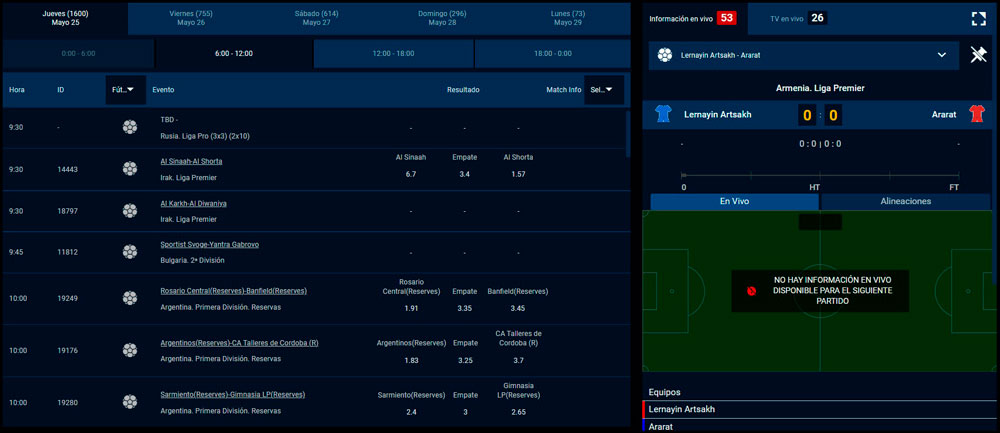 Welcome Bonuses, Promotions, and Incentive Programs 🎁⚡️
WinChile Casino invites players into a world brimming with enticing bonuses and promotions, designed to enhance the thrill of the game for both new and seasoned users. Although a VIP program is not currently in place, a wide range of bonus opportunities compensates for its absence. This article provides an overview of some of the most appealing offers available.
Note: Details and conditions of these bonuses may change over time. For the most recent information, we recommend regular visits to the official website.
⚡️ About Bonuses: https://winchile.com/bonus

Welcome Bonuses and Their Conditions 🎁⚡️
The casino offers an attractive welcome bonus of up to 300,000 CLP, divided over your first three deposits. Each bonus target is traceable in the "Bonuses" section of the site, and on completion, a pop-up notification confirms your accomplishment and instantly adds the winnings to your real balance.
⚡️ The first deposit bonus matches 100% of your initial deposit, up to 100,000 CLP, and is valid for 30 days from the date of crediting. To qualify, a minimum deposit of 5,000 CLP is required.
⚡️ The second deposit bonus provides 25% of your deposit, again with a maximum limit of 100,000 CLP. To be eligible, a minimum deposit of 5,000 CLP is needed.
⚡️ The third deposit bonus grants 50% of your deposit. As with the other bonuses, a minimum deposit of 5,000 CLP is required, with a maximum limit of 100,000 CLP.
Note: If the bonus balance drops below 100 CLP, it's considered that the player hasn't met the bonus criteria, and the bonus ends with no winnings. Players must wager 75% of their deposit amount on slot machines to qualify for the first, second, and third deposit bonuses.
⚡️ About Welcome Bonus: https://winchile.com/bonus/welcome
Weekend Bonus 🎁⚡️
The Weekend Bonus is a unique benefit offered by WinChile Casino to its loyal players, providing an additional opportunity to win. It equals 10% of the money deposited and wagered from midnight on Friday to just before midnight on Sunday.
Terms and Conditions:
⚡️ Players must deposit over 10,000 CLP between midnight Friday and just before midnight Sunday to qualify.
⚡️ Eligibility for the bonus requires funds to be deposited via a direct bank transfer from the player's account to the specified Service Chile Spa account.
⚡️ Deposits made with credit or debit cards or through a payment gateway like Flow are not eligible for this bonus.
⚡️ The Weekend Bonus is credited to players every Monday.
⚡️ The bonus ranges from a minimum of 1,000 CLP to a maximum of 500,000 CLP per week.
Weekly Bonus 🎁⚡️
The Weekly Bonus provides regular players with a chance to recoup part of their wagered money and an additional opportunity to win. It is equivalent to 3% of the money deposited and wagered by a player during the previous 7 days.
Terms and Conditions
⚡️ The weekly bonus varies from a minimum of 500 CLP to a maximum of 300,000 CLP per week.
⚡️ Winnings made on bets placed with the Operator's Bonus, credited after the end of the Bonus period, will not be added to the actual balance. They will be reflected in the "Game History" as non-Bonus winnings.
Birthday Bonus 🎁⚡️
The platform offers a Birthday Bonus of 25 free spins to celebrate a player's birthday. This gift is valid for forty-eight (48) hours from the player's birthday.
Terms and Conditions
⚡️ The player must have been a Club member for at least seven (7) calendar days before his/her birthday.
⚡️ The player must deposit funds within thirty (30) consecutive days before his/her birthday to qualify for the bonus.
Loyalty and Campaign Bonus 🎁⚡️
WinChile Casino occasionally provides loyalty bonuses and/or campaign bonuses as part of promotional campaigns aimed at attracting or retaining existing players. These are awarded at the discretion of the platform, and there is no universal or systematic obligation on the part of the casino to distribute them.
Ganagool Passbook – Sports Event Bonus 🎁⚡️
The casino provides a free weekly Ganagool Passbook to eligible players, featuring a total of ten (10) sporting events. The starting prize pool for the Ganagool Passbook is CLP 500,000, which can accumulate based on the terms and conditions. The Ganagool Passbook is launched on Mondays and lasts for seven (7) working days.
⚡️ First category: Ten (10) correct predictions from the published events yield 60% of the announced jackpot.
⚡️ Second category: Nine (9) correct predictions yield 30% of the announced jackpot.
⚡️ Third category: Eight (8) correct predictions yield 10% of the announced jackpot.
Terms and Conditions
⚡️ The player must have registered a transaction within the last thirty (30) days to participate.
⚡️ Recent activity on the website is required, meaning the player must have placed bets totaling at least 5,000 CLP in five (5) days before the promotion's start date.
⚡️ The player must use the Ganagool Passbook at least one (1) hour before the first event, or the bet will be considered invalid.
⚡️ The Operator caps the cumulative jackpot at 5,000,000 CLP. Once this limit is reached, it will be maintained until it is won.
Deposit Options 💵
WinChile takes player security seriously, requiring a facial verification process before you can deposit funds into your account. This measure ensures the utmost protection for your account and financial data. Once your identity is verified, you can add money to your account using a variety of straightforward deposit methods.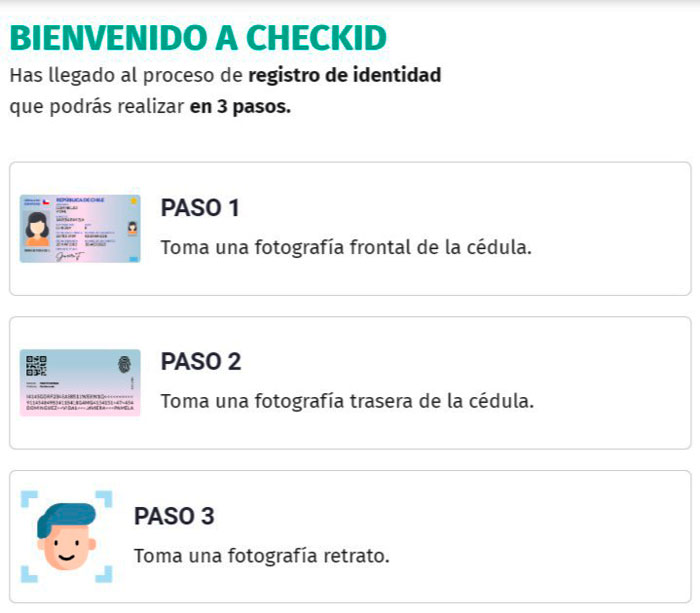 Here are the convenient deposit options provided by the casino:
💵 Card Payments: One of the quickest ways to deposit funds into your account is via credit or merchant card. This allows instant funding, enabling you to immerse yourself in the gaming experience without delay. Rest assured, your card details are secure as the casino employs top-tier encryption technologies.
💵 Express Bank Transfers: This method offers an even more efficient means to deposit funds. Express bank transfers are instant, enabling seamless gameplay. For many players, this is the preferred choice due to its speed and efficiency.
💵 Direct Bank Transfer: Another option is to use a direct bank transfer to fund your account. Note that this method could take up to two business days, depending on your bank's processing time. For this method, the following details are needed:
Bank name: Banco de Chile
Recipient Name: SERVICE CHILE SPA
ROUT: 76.192.571-7
Account Type: Checking account
Account Number: 101-25379-06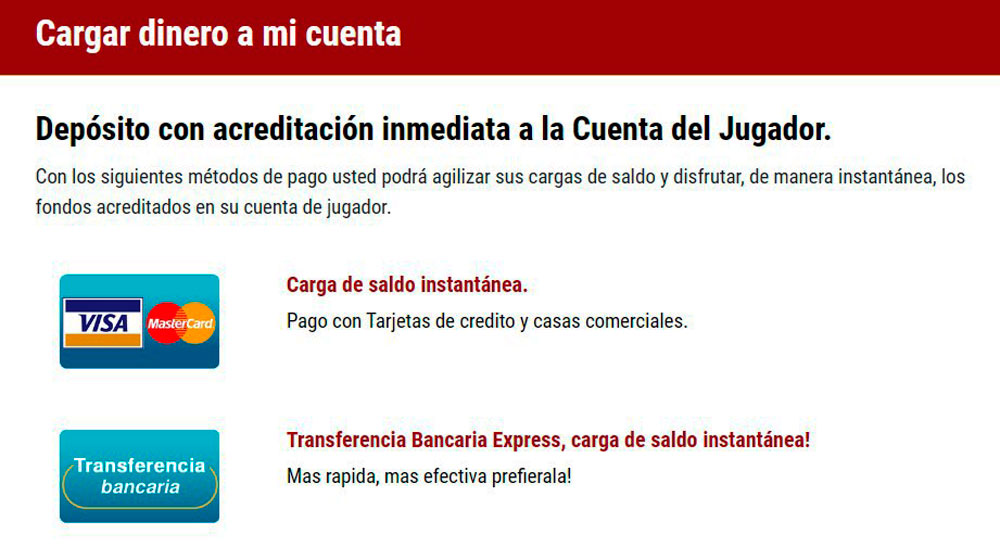 Withdrawal Options 💵
While it may seem daunting to withdraw your winnings, WinChile has made the process easy and efficient. Players can withdraw their winnings at any time, with requests processed in the order received. Be aware that the casino may request additional verification or identification during this process. Failure to verify these details may result in account suspension.
New Player Protocols 💵
New players to the casino must undergo specific verification procedures.
💵 First, a facial identity verification is performed to match your registration details with your ID.
💵 Next, expect a slight delay – up to 48 business hours after the transaction – for the first three deposits while the casino verifies the fund release from the payment platform.
💵 During the initial three withdrawal requests, you may be asked for proof of your payment methods. This could involve a photograph of your card or other bank documentation. It's your responsibility to provide this information as needed.
Transferring Funds 💵
Upon successful verification of your identity and payment method, WinChile Casino will transfer funds to your bank account, debit/credit card, or e-wallet, provided they are solely owned by you. Any transactions not adhering to this policy or the anti-money laundering policy will be voided.
In line with the casino's terms and conditions, withdrawal processes start as soon as a player's request is received, operating on a first-come, first-served basis.
Withdrawal Caps 💵
The casino has set a daily withdrawal cap of 10,000 USD. Requests exceeding this amount necessitate a special agreement between the player and the casino. In case of suspicious activity, the operator reserves the right to refuse a withdrawal request pending further investigation.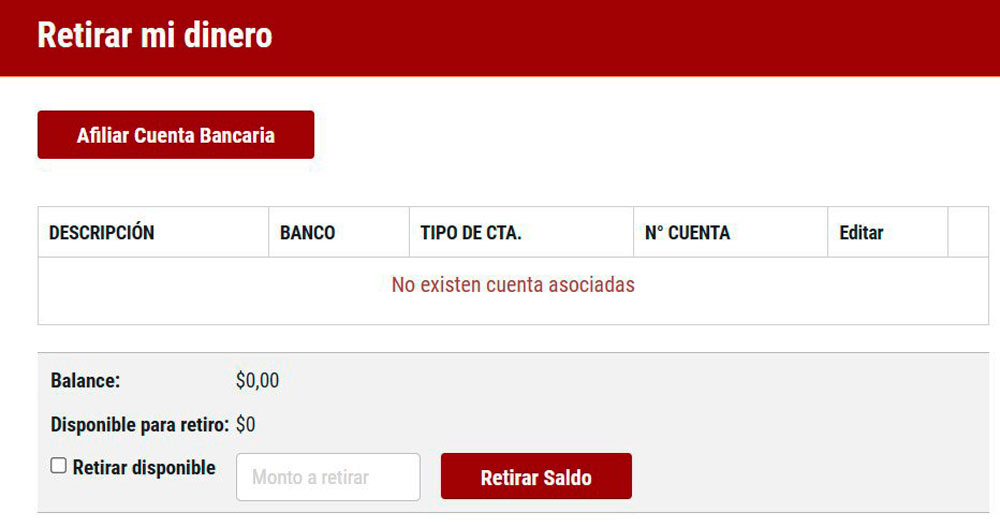 Withdrawal Amounts and Timelines 💵
For withdrawals under 1,300 USD (or equivalent in local currency), the process is almost instant. After account details and withdrawal amounts are verified, the platform will initiate the transfer, which might take up to 2 hours due to third-party service involvement.
For amounts equal to or exceeding 1,300 USD, the request undergoes an additional verification process that can take up to eight business hours. Once approved, the request is sent to the deposit payment method, which can take more than a day to process.
Note: Although the withdrawal process at WinChile may initially seem complicated, it is structured to ensure transaction security and authenticity. By following the guidelines patiently, you'll find it's a straightforward process, leaving you more time to enjoy your gaming.
💵 More about payment methods: https://winchile.com/about/payments
Customer Support ☎️
In our interactions with WinChile, we've noted their high regard for customer satisfaction. They have a proficient and approachable customer service team dedicated to swiftly and efficiently resolving any inquiries or issues. Whether you're giving feedback on the platform, voicing concerns about the casino or sports betting games, or merely asking a question, reaching out is made easy. A standout feature is the ability to converse directly with the support team via WhatsApp.
Here's how you can connect with the support team based on our experiences:
💭 WhatsApp: If you appreciate fast and casual communication, this is an ideal option. Engage directly with the team using this WhatsApp link. Please remember their working hours: 08:00 to 18:00.
📞 Contact Page: If you lean towards a more traditional mode of contact, the contact page is at your disposal. Here, you can draft your message at your own pace, and the team will respond as soon as possible.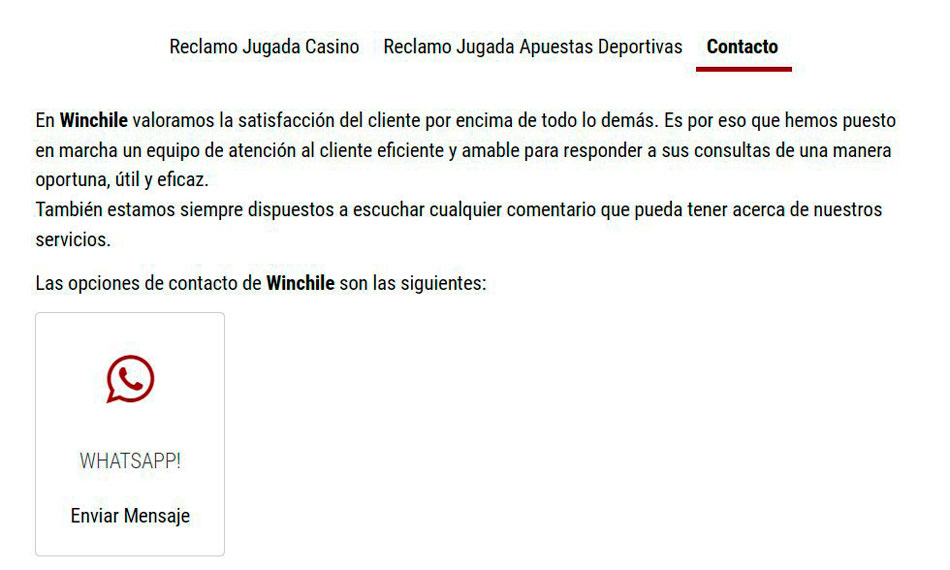 Mobile Gaming Experience 📱⚡️
With the world shifting towards mobile, it's only expected that casino fans would want to indulge in their favorite games on the go. Although WinChile does not provide a dedicated mobile app, they cater to mobile players exceptionally well.
As soon as you access the website via your mobile browser, you'll notice that the user interface is tailored to accommodate smaller screens. Regardless if you're using an iPhone, Android device, or tablet, the website's mobile-friendly design assures a seamless and enjoyable gaming experience.
⚡️ The aesthetics, graphics, and load times for games on mobile devices are impressive, considering they're browser-based. The touchscreen controls are user-friendly and responsive, facilitating easy play and navigation.
The mobile site also maintains the same level of security as the desktop version, safeguarding your personal data and financial transactions, thereby offering a safe and secure gaming experience on the move.
Security Measures, Responsible Gambling, and Licensing ⚔️⚠️
As seasoned players committed to safe and responsible gaming, we ensure thorough research before joining any online casino. While reviewing WinChile Casino, assessing their security protocols, dedication to responsible gaming, and licensing information was the top priority.
Security Provisions ⚠️
Security is paramount in any online gaming experience. We discovered that this casino uses top-notch encryption technology to safeguard personal information and financial transactions. This ensures any data transmitted to their website is secure and immune to third-party interception. They also have a robust privacy policy that guarantees your data will not be shared without your permission.
⚠️ Privacy Policy: https://winchile.com/about/privacity
Responsible Gaming ⚔️
Their dedication to responsible gaming is praiseworthy. They acknowledge that while gambling is a source of entertainment, it can lead to problematic behavior in some individuals. To mitigate this, they have measures in place to aid players in managing their gaming habits.
Additionally, the company offers links to professional organizations that provide assistance to individuals grappling with gambling addiction. This is a vital element of responsible gaming, and we value the casino's commitment to offering these resources.
⚔️ Responsible Gaming: https://winchile.com/about/responsible
Ownership and Licensing 🧾
WinChile Casino is owned by W & C N.V., located at E-Commerce Park Vredenberg, Curaçao. This is a renowned hub for numerous online gaming companies, providing an added layer of security. The platform operates various types of remote gaming activities including games, betting, betting exchanges, interactive casinos, bingo, lotteries, and other interactive games and amusements.
🧾 Certificates: https://winchile.com/about/certificate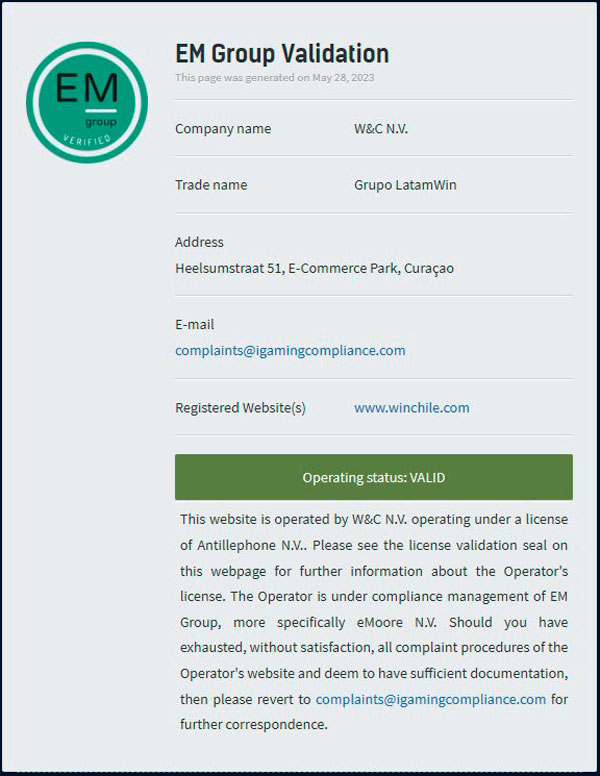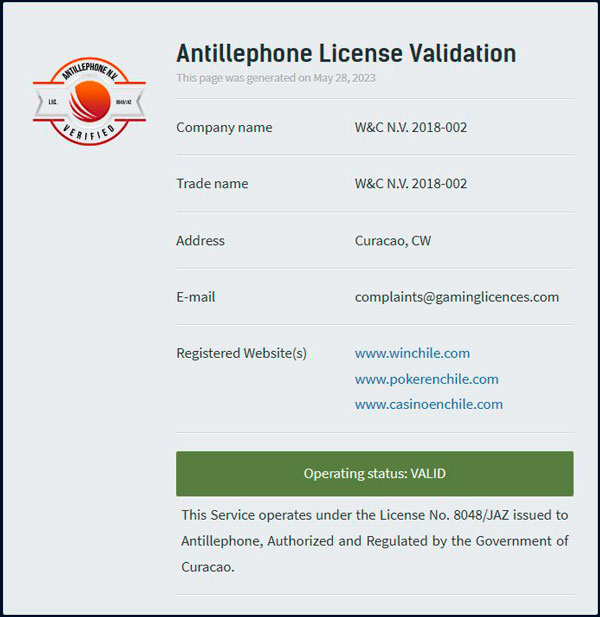 Useful Links 🔗
FAQs ❔
Conclusion 📢
In wrapping up, we'd say our journey with WinChile Casino has been quite a ride. You're not just getting an online platform to place your bets and spin some reels; you're entering a community, an experience. The website has a clean design, easy navigation, and a wide array of games and sports to bet on that could keep anyone hooked for hours.
Their commitment to security, verified by their robust verification processes, gave me a sense of confidence every time we played or made transactions. Having dealt with their customer service, we can vouch for their dedication to resolving issues and their genuine interest in player feedback.
The whole mobile-optimized design just took it a step further. Being able to have that experience while on the move, with no compromise on game quality or security, added to the platform's appeal. However, like with all gaming and betting activities, remember to play responsibly. This isn't about winning or losing but the thrill of the game, the anticipation of the bet. The casino seems to understand this, which is seen in its emphasis on responsible gaming.
To sum it up, our experience with WinChile has been a blend of fun, security, and convenience. If you're looking for a space to play your favorite casino games or place some sports bets, you might just find what you're looking for here. But remember, every player's experience is personal. So give it a go, take your time, explore, and make your own call! 🌶⚡️